Calendar Mobile Smart Phone App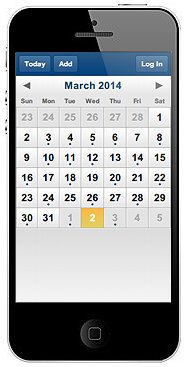 Mobile App
Don't go to your phone's App Store…Simply open a browser on your phone and enter the link to your calendar
Using the App
Days with a dot beneath the number have events. Tap the day number to view the event details.
Swipe left and right, or use the arrows to move from month to month.
Tap the Today button to return to the current month.
Tap an event to view the event details and description. Use the Done button to return to month view.
Compatible with any smartphone, including iPhone, Android, Windows, and BlackBerry.
Troubleshooting
If you encounter an issue accessing your mobile calendar, try this direct link on your phone: http://www.calendarwiz.com/mobile.html?crd=jojobahills